Welcome to Broward Vision Care
Eyes are important indicators of overall health, and comprehensive eye care goes beyond a prescription for glasses or contact lenses. At Broward Vision Care, we take the time to get to know you, your eye care history, and your vision needs. Our optometrist provides the expert care, advice, options, and follow up you need whether you are a new patient or an existing one.
Our staff looks forward to helping you with all of your eye health needs. Give us a call today to schedule your next appointment or use our Online Scheduler!
Office Hours
Monday: 11:00am - 7:00pm
Tuesday: 10:00am - 6:00pm
Wednesday: 11:00am - 7:00pm
Thursday: 10:00am - 6:00pm
Friday: 10:00am - 5:00pm
Saturday: 9:00am - 4:00pm
Sunday: Closed
Use our Online Scheduler or Call us at 954-437-8777 to Schedule an Appointment
Our Services
At Broward Vision Care, we provide an array of vision care services. Our office offers a wide selection of eye care products, including eyewear, sunwear, and contact lenses to fit your specific eye care needs. Our mission is to provide quality service and products at a reasonable cost.
Comprehensive Eye Exams
We are pleased to offer the following optometry services to our community. An eye exam in our office is a thorough evaluation of the eye and a determination of prescription for glasses or contact lenses.
Optometric Services
Our experienced optometrists can diagnose and treat eye diseases and identify general eye health problems including diabetes, anemia, high blood pressure, and others. We can also test for and fit specialty or safety eyewear for sports, occupations, other activities and hobbies.
Comprehensive Eye Exams Include:
Testing visual acuity or refractive error
Pupil evaluation with or without dilation
Examination of peripheral visual field
Color vision testing
Analysis of the visual systems
Examination of the external parts of the eye
Intraocular pressure measurement
Examination of the health of the entire eye
Our Optometric Services Include:
Comprehensive eye exams w/ Dilation
Contact lens examinations and fittings
Diagnosis and treatment of eye disease
Specialized testing and care for eye disease
Pre-and post-operative care for eye disease
Eye emergencies
Foreign object removal
Glaucoma evaluation and management
Cataract Evaluation and co-management
Diabetic evaluations
"Dr. Ho and her staff are delightful! Not only is she professional and thorough during her exam, she takes the time to explain and answer your questions in a manner that is easily understood! I am never disappointed with my exams and with the prescription for eyeglasses each year. Thanks Dr. Ho!"
- Vivian S.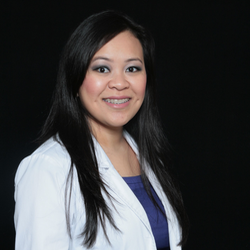 Dr. Hue Ho
Optometrist
Dr. Hue Ho moved to Florida with her family in 1999. She grew up in Daytona Beach, where she attended high school, graduating with highest honors. Aspiring to earn a degree in the medical field, she moved to Orlando. Dr. Ho graduated from the University of Central Florida with a bachelors degree in Biology. She received her Doctorate of Optometry with honors as valedictorian of her class, from Inter- American University of Puerto Rico School of Optometry. Aside from graduating top of her class, Dr. Ho received many awards and recognitions. These include Beta Sigma Kappa honors and J. Pat Cummings scholarship. While in optometry school, she did her externships at Eye Centers of South of Florida and Bird Eye Institute, specializing in primary care and ocular diseases. She is an NBEO certified optometrist in clinical practice and injection skills. Dr. Ho is also certified and has oral prescribing privileges. Dr. Ho enjoys cooking, traveling, shopping and spending time with her family in her spare time.
Contact Us
Address
Broward Vision Care
151 SW 184th Ave
Pembroke Pines FL 33029
Office Hours
Monday: 11:00am - 7:00pm
Tuesday: 10:00am - 6:00pm
Wednesday: 11:00am - 7:00pm
Thursday: 10:00am - 6:00pm
Friday: 10:00am - 5:00pm
Saturday: 9:00am - 4:00pm
Sunday: Closed